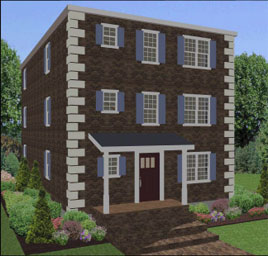 In order to meet the demand of a fast growing community, many developers and contractors take advantage of modular construction to maximize the lot area and the indoor space. The final output looks like a traditionally built multi-family home, which actually takes less time and money to complete. This is more advantageous for those who are in- or would like to enter- the real estate rental business.
If you are looking for a floor plan that can maximize tight lots, The Winthrop multi-family style home is a great option for you. It is a three story multi-family floor plan containing one apartment unit on each floor. Every floor is comprised of three bedrooms and one bathroom to provide enough indoor living space for the occupants. In this floor plan, typically each of the three bedrooms is placed next to the other and the bathroom, living room, kitchen and dining areas will be on the opposite side. However, owners can rearrange the floor plan to their liking.
The Winthrop and other available multi-family style modular homes in Stoughton, MA prove how modular construction continues to expand in order to cater to higher demands and varying needs of homeowners, landlords, and business owners. You can be confident that whether it is a residential or commercial application, you can find a modular floor plan to help you get started while maximizing your resources.
For more details, contact Avalon Building Systems.