Why build your home with Avalon Building Systems?
Call us Today 888-764-1297
Avalon Building Systems modular homes are superior in construction and quality as compared to conventionally built buildings. Our homes and buildings are computer engineered using the latest technology to meet or exceed national, state, and local building codes. The result is that the customer gets exceptional quality and performance while recognizing significant savings in time and cost.
Flexibility
Avalon Building Systems Flexibility - We can customize any floor plan to suit your needs and lifestyle... we can also build from your own plans. You choose your interior and exterior finishes, and select from many available amenities like fireplaces, hot tubs, wood cabinets, and luxury flooring.
Materials
Only the finest materials and products from the best manufacturers in the industry are used in the construction of our buildings.
Schedule
Our buildings are usually delivered to your site (depending on our manufacturer's production schedule) about 8-12 weeks after details are finalized and your order is placed. Compare this to conventionally built projects, which may take a year or more to complete. The uncertain nature of scheduling most "stick-built" projects can cause coordination problems and financial nightmares for buyers.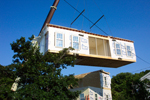 Working with Avalon Building Systems, you can be certain that your home or building will be delivered as promised without any unforeseen delays or scheduling problems. We take pride in satisfying our customers.
Cost
Avalon Building Systems homes cost less because we efficiently manage the entire budget process without many of the problems of traditional construction. The factory makes large volume purchases directly from manufacturers and this advantage is passed on to the consumer.
Quality
Avalon Building Systems Quality - Our buildings are constructed in state-of-the-art, environmentally-controlled factories using only the very best materials. All construction is performed by technicians using the most advanced equipment, which insures that our buildings meet your design specifications and all work is plumb, square, and true.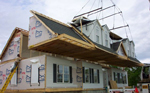 Quality is maintained throughout the construction process by experienced inspectors who examine and review every aspect of the building process.
Construction
Our buildings are better. It's that simple.
The state-of-the-art equipment and assembly line technology used in our factories insure that we employ great efficiency and speed. Components are nailed, screwed and glued together for improved strength and long-term durability. All of our buildings are completely insulated and caulked, ensuring a lifetime of energy efficiency and savings.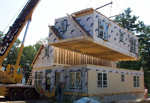 Environment
Build with Avalon Building Systems - here in the Northeast, the materials used in the construction of conventionally built structures are exposed to a wide variety of weather conditions. beside causing delays, the exposure of materials to the elements can result in severe damage and impaired performance and integrity. Our modular homes are built in climate controlled factories, eliminating the possibility of environmental damage, scheduling delays, and vandalism.