Avalon Building Systems Standard Specifications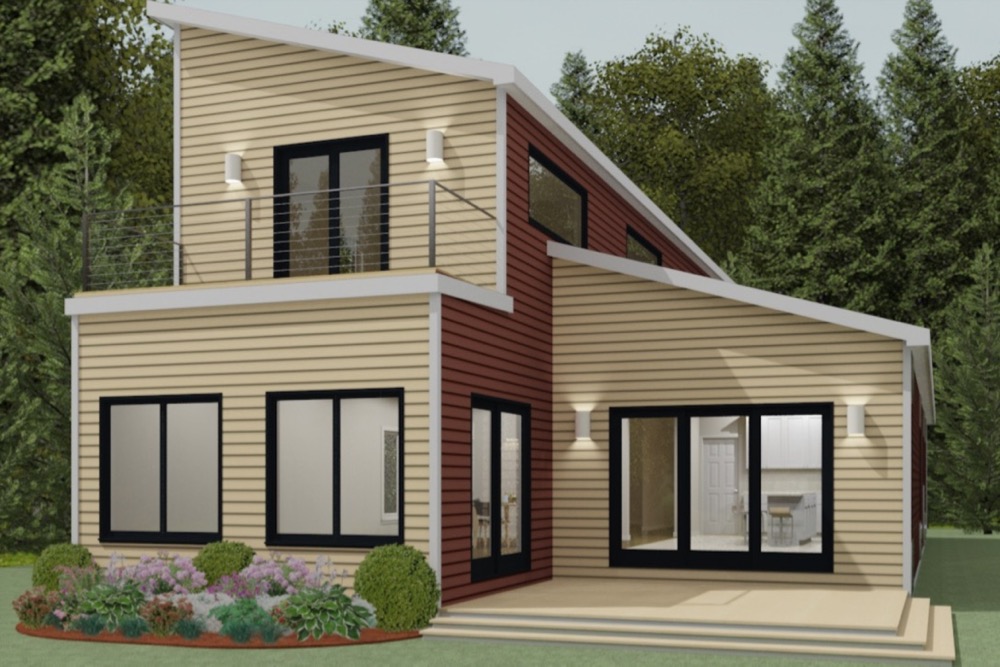 Avalon Building Systems offers a range of modular homes, ranging from contemporary styles, like their Chilmark and Newton models, to more traditional designs. Built out of SIPS (structural insulated panels), all of their homes meet "Energy Star Standards" and HERS requirements where mandated. They can also help clients design their home to maximize LEED points throughout the site design, building design, and construction decisions. Click here to read full article...
Standard Specifications
Specifications are the design choices made by you to build a house that will be energy efficient, well designed, long lasting, and able to provide you with the day to day comfort and convenience that you should expect from a new home.
We allow you to upgrade your specifications to suit your own needs and we will discuss the performance of each specification to your satisfaction.
Floors
2x10 Floor Joists @ 16" O.C. with Double Perimeter Band - Front and Rear (12" QC. on 31'-6" Wide Available)
3/4 " T&G OSB Floor Decking Glued and Fastened
3/4 " T&G Plywood Floor Decking Glued and Nailed Where Hardwood Flooring Will Be Installed
Vinyl Floor Covering (Baths, Kitchen, Dining, Laundry, & Entry Per Plan)
25 oz. FHA Approved Carpet with 8 lb. Rebound Pad (Main Living Areas, Bedrooms, Halls, & Stairs Per Plan)
Walls
2x6 Exterior Walls @ 16" O.C. with 7/16" OSB Sheathing
2x4 Mating Walls @ 16" O.C. with 7/16" OSB Sheathing
2x4 Interior Walls @ 16" O.C.
1/2" Drywall Throughout, Glued and Screwed
8'-0" Wall Height
Roof
7/12 Pitch, Non-Storage Rafter Roof System @ 16" O.C.
10" Gable End Overhangs
10" Eave Overhangs, Fixed with Soffit and Fascia Installed when Possible
7/16" OSB RoofSheathing
Ice Shield Installed on Eave Overhangs
Minimum 15# Felt Paper Shingle Underlayment
30 Year Architectural Shingles
Shingle Over Ridge Vent (Shipped Loose)
Insulation
R721 Fiberglass Exterior Wall Insulation with Vapor Barrier
R-49 Ceiling Insulation with Vapor Barrier
Exterior House Wrap
Exterior
CertainTeed "Main Street" Vinyl Siding (Double 4 Clapboard, Double 5 Clapboard, or Dutch Lap)
6" Vinyl Corners, Vented Vinyl Soffit, Ribbed Aluminum Fascia, and Aluminum Drip Edge
Smooth Fiberglass 6-Panel Front Door, Composite Jambs, and Vinyl Brickmould (Per Plan)
Smooth Fiberglass Rear Door with Half Glass, Composite Jambs, and Vinyl Brickmould (Per Plan)
6'-0" Vinyl Sliding Glass Door (Per Plan)
Exterior Doors Installed with Pan & Bracing Beneath Jamb
Satin Nickel Schlage Thumb Handle Set — Front Exterior Door Hardware and Dead Bolt — Keyed Alike
Satin Nickel Schlage Lever Locks — Other Exterior Hinged Door Hardware and Dead Bolt — Keyed Alike
Vinyl Double Hung Low "E" Windows with Vinyl Brickmould, Screens, and Argon Gas
Two Exterior Lights Supplied for Front Door, One Exterior Light Supplied for Other Doors
Vinyl Shutters, Installed on Front
Interior
Primer Paint on Walls with 3—5/8" Crown Moulding for the 1" Floor
Smooth Ceilings with White Primer Paint
6-Panel lnterior Doors with Smooth Finish
Solid Core Passage Doors, Hollow Core Closet Doors
Satin Nickel Lever Style Door Hardware
Privacy Hardware on Bathrooms and Master Bedroom
3-1/2" Colonial Base Moulding and 2-1/4" Colonial Casing (Semi-Gloss White)
Windows Sills (Semi-Gloss White)