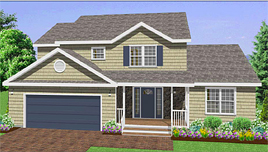 The colonial style modular homes in Hingham, MA have certain features and distinct geometry that you cannot find anywhere else. Their architecture is very symmetrical and is popular in historic towns. The style was inspired by the Colonial period in America's history. On the roof of a colonial home you can often find paired chimneys which also adds to the symmetry. But what is most recognizable in the design is the front or entry door, which usually comes with a decorative crown above it and around the windows. Often there also two narrow side-light windows flanking the front door. These design details are found in the Stoneham colonial style modular floor plan.
If you have an affinity for two-story colonial homes, then The Stoneham colonial style floor plan is a great bet. This colonial style modular floor plan offers a large first floor which measures 1,240 square feet with a living room and family room. This home also has a garage which can house two cards. The kitchen is also located on the first floor and is adjacent to the dining room. Before you reach the front door of the Stoneham colonial home, you will enter the portico or small front porch. Once you open the main door, you will see the stairs that connects the first level to the second. You and your family can find comfort upstairs where three large bedrooms and a larger master bath and closet are located, strategically allocating the available 1,035 square feet of indoor space.
To find out more about The Stoneham colonial style home and other modular floor plans, contact Avalon Building Systems.