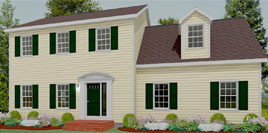 The Deerfield production style modular home in Stoughton, MA has three bedrooms and two bathrooms with 1,150 sq. ft. living space, along with the other beautiful elements to the home. There is one larger bedroom that serves as a master, leaving the other two smaller rooms for kids or guests. The modular construction technology is perfect for building a custom-designed home in a smaller sized lot.
In addition to the bedrooms and bathrooms, The Deerfield production home style floor plan also includes a living room that opens up into the kitchen and dining area. This open floorplan offers plenty of space for a beautiful home that is perfect for smaller lot sizes.
The bathrooms are strategically located so that the three bedrooms all have convenient access and family and guests taking advantage of the living room and kitchen have easy access as well. Each bathroom has ample space to include the toilet bowl, sink, and bathtub.
Through the building technology used for modular construction, you will be able to benefit from the customization options that allow you to maximize your indoor and outdoor living space regardless of lot size. For instance, in The Deerfield modular floor plan, a front porch on the outside of the home can be added and a small storage area can be added inside as well.
To find out more about how you can maximize a single story living in a narrow lot, contact Avalon Building Systems.