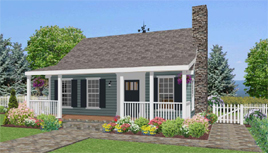 Vacation homes often serve as cabin retreats where you can escape from the daily hustle and bustle of your regular life. Many homeowners dream of bringing that feeling into their everyday homes by having their own vacation style modular homes in Hingham, MA as their primary home. The Greenfield Cabin modular home floor plan is perfect for creating a vacation atmosphere in your primary home. This type of modular home offers a unique experience for families. It can be custom-built to perfection with a feeling that you are on vacation every day.
The Greenfield Cabin Vacation Style floor plan creates a serene and stylish modular home. This 800 square feet cabin houses a great room that is strategically located to provide full access to the 2 adjacent bedrooms, 1 bathroom, and kitchen space. There is also a perfect spot for the fireplace which adds a beautiful element to your vacation style modular home come winter. Another optional feature is the gracious front porch that adds to the aesthetic value of your home's exterior and shades the interior during the summer at the same time.
To find out more about other available vacation style floor plans, contact Avalon Building Systems.