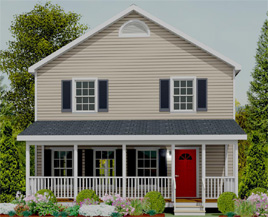 Colonial style home floor plans are very popular. Regardless of the size of the home, Colonial-style homes share several defining features. While they are viewed as symmetrical or square, with an entry door that can be found in the front middle of the home, modular construction has found a way to offer more options for customization as in The Milton colonial style floor plan.
With modular building technology, colonial-style homes can now be custom-engineered to be unique, both inside and out. For instance, the The Milton colonial style floor plan has the classic old-fashioned appearance which has been improved to make it more attractive on the outside and more spacious inside. It still maintains the medium pitched roof but this home plan no longer places the entry door in the middle. Instead, the entry door at the front of this colonial style home sits on the right, leaving the windows adjacent to one another. While it does not have paired chimneys, the twin windows accent the second floor of the home in order to project the symmetry which is traditional in Colonial homes.
The Milton colonial style modular home in Stoughton, MA is a two-story home with a total finished area of 1,644 sq. ft. The space has been optimized to provide enough space for three bedrooms, two and a half bathrooms, a large living room, and an open kitchen with pantry. There is also an optional porch which can be added to the exterior of the home to make it even more appealing, warm, and welcoming.
To find out more about The Milton colonial style modular home and other available floor plans, contact Avalon Building Systems.