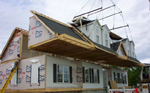 It is a new year and more people are starting to turn their efforts green and in a more efficient approach. One of these growing trends is the use of modular construction. Not only is modular being used for homes but also buildings and offices as well. There are many, many benefits and features we can list but to make it simple, we'll provide a short summary of why modular construction works for years to come.

Lower Cost: Modular homes are built in factories and take advantage of "volume" pricing. The assembly line process allows for maximum labor efficiency.

Quality Control: Modular homes are built in a controlled environment and engineered for trouble-free durability. Quality control is maintained by constant inspection throughout the construction process.

High Quality Materials Less Waste: To insure a safe delivery of your home, modular homes are built exceptionally well, using high quality materials. Typically, 20%-30% lumber is saved and used for other projects, so nothing is wasted.

Peace of Mind: Modular homes come at a guaranteed price.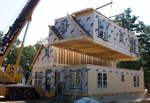 Quicker Build Time: Modular homes are stick built, using the same components and techniques as site built homes, but in a controlled, indoor environment - there are no weather delays, and your home is not exposed to the elements during construction. Lower utility costs/higher resale value! as most are built today, using ENERGY STAR appliances and companies are building homes that optimize comfort and savings with features that include leading-edge heating systems, additional insulation, advanced air-infiltration preventions packages, high performance windows and more!
Choices: And lots of them! Carpeting, vinyl, ceramic tile, interior doors, counter-tops - any component in the home!

Functionality: Built with floor plans for today's lifestyles - Ranches, Colonial, Bank style, and Multi-Family. Modular building offers you the chance to purchase a high quality home, customized to fit your tastes, lifestyle, and budget.

For most of us, our home is the largest, single investment we will ever make. With a modular home purchase, you can set your modular home on your land anywhere in the US.

Once you have ordered your new modular home and have chosen all the features you wish to have, Avalon will be in contact with you every step of the way throughout the building process. Once your home is delivered to your site, they will be there to insure that the rest of the development of lifting your home by crane onto your new foundation, getting utilities to the house, finishing any features you may have chosen for your elevation, including any special windows, basement, garage etc., and the roofing of your home. Contact us today to learn more about modular homes and see how they can turn your dream home into a reality.