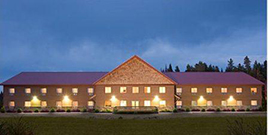 Starting your own business is fulfilling - you are the boss, you own your time. A lot of benefits can come out of it. However, there are some entrepreneurs who delay these plans because they are not sure where to house their business, particularly if they want to own the building. This is no longer needs to be the case with modular construction.
There are numerous commercial style modular buildings in Duxbury, MA and the surrounding area. This is because these permanent structures can be custom-built without taking up too much of your time and by staying within budget. If you want to own the building in which you do business or invest in commercial real estate, this can be done in less time so you can benefit from a ROI faster.
The modules of your new commercial modular building are pre-fabricated in a highly secure factory-like facility. As a result, theft and materials damage are kept at bay so construction is not delayed. With modular construction, building materials are also bought in bulk which also helps keep costs down.
You are provided with a wide selection of modular floor plans that for many different commercial applications. So even if your business needs a unique building, this is not impossible to achieve when choosing the modular route.
To find out more about your options on commercial style modular buildings, contact Avalon Building Systems.