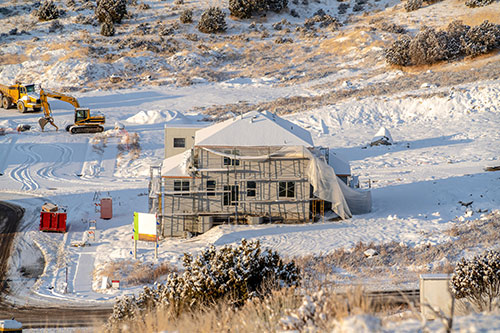 Many homeowners postpone their home construction plans as the fall and winter kick in, due to weather concerns and delays. Weather absolutely comes into play with traditional construction. However, cold and wintry weather challenges are largely mitigated when choosing modular construction. With this choice in home construction, it is possible to make solid home building progress throughout the worst of winter.
With modular building systems there are no weather delays associated with the modular home's fabrication process. This is because the modules are built indoors where the weather condition cannot affect the process or the building materials. Site work is done at the same time and can be done on choice weather delays without delaying construction. When the modules are completed, they are then delivered to the actual site. The remaining 10% of the home building process, the final assembly and finishing touches, are performed. So in just a matter of 5-6 weeks, your modular home is completed and ready for occupancy.
If you are planning to build a home this winter, choose to build a modular home. You can pursue this path to a new home during any time of year. Contact Avalon Building Systems right away to get started with your dream home.