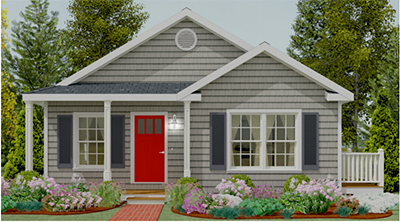 In retirement, house cleaning and maintenance becomes more difficult especially when you live in a large home. This is a common reason that downsizing a home is becoming more common with older couples and empty nesters. Modular construction offers a wide selection of home styles that are suitable for homeowners who would like to downsize their living space. Here are some of our recommended home designs that you might consider:
Ranch Style Home - Our ranch style modular homes are single story bungalows with three bedroom and 2 bathroom floor plans. This design features an open living, kitchen, and a dining space that is ideal for a small lot area. It is also possible to add a porch onto the front.
Vacation Home Style - If it is the sand and the sea breeze that you would like to wake up to each day, living near the coast is possible with our vacation style modular home. These home styles are elevated and have single or two-story options. A front porch can be added to serve as view deck.
Cape Style Home - Cape style modular homes are cozy cottages which offers a living area, kitchen and a half bath with laundry. These home styles are originally single story floor plan but a 2nd floor extension is possible to serve as additional bedroom perfect for visiting relatives or guests.
When you downsize your home, you can also reduce both your tax and utility expenses. If you are considering downsizing your home, consider modular homes for a faster construction process. Contact Avalon Building System for more details.