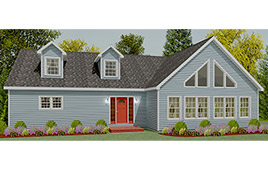 Contrary to what is often said, homes built with modular home construction are not visibly different from traditionally built homes. These custom-built modular homes all meet or exceed local, states, and other building codes. And each home can be built and designed to meet each individual homeowner's specific needs, wants and requirements.
Through modular construction the modular home floor plan is built in modules in a factory type setting. This make the construction time far faster than that of traditional construction with higher quality standards. Modular home construction allows several modules to be built at once inside a climate-controlled and secure facility. Every module is inspected by a team of engineers and QA professionals to ensure integrity and compliance throughout the construction process.
The modules for each modular home in Norwell, MA are brought to the permanent site. They are then assembled and proper finishing and sealing is done with another round of inspections to ensure that each module is securely in place and in held accordance to the specified floor plan. Due to the controlled custom-building process, modular homes have superior quality and energy efficiency.
To find out more about the advantages of modular construction over traditional, contact Avalon Building Systems.