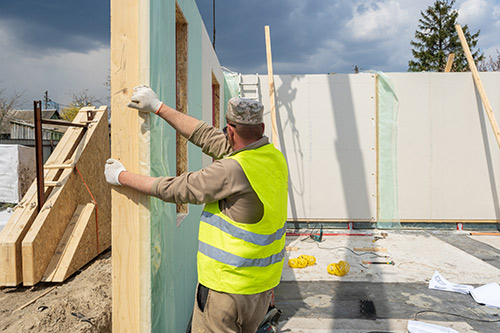 Modular homes are constructed with the support of precision computer-assisted systems engineering precision. In short, this means that your future home fits better together vs traditional home construction. This makes your future home stronger from foundation to roof…a better overall product.
The core structure of modular home construction is accomplished within an indoor automated-controlled setting using computer precision assembly processes. Every module produced within the fabrication center is subject to continuous quality checks. This is fundamentally different from traditional home construction where a team of laborers of varying skill sets work unsupervised for swaths of time. Now don't misunderstand us here. We're not condemning traditional home builders and their staff, we're simply saying the degree of quality control mechanisms in place within the modular home construction industry simply do not exist within the traditional home building industry.
However, systems-built homes do not mean that they are cookie cutter style homes. Modular homes can be custom designed. There are also 100's of modular floor plans from which you can choose, or you can modify one of those existing plans. Whatever floor plan design you choose, Avalon Building Systems can build that home faster with modular construction.
Speed of construction is one reason that homebuyers turn to custom modular home construction. Modular home modules are built in a climate controlled factory. While construction is taking place, the site crew is building the foundation and tying in water and sewer. When the modules are delivered the modules are secured, the roof and siding is added, and the finish work is completed.
While interest in modular homes is peaking because of the faster construction process, home buyers soon find that modular homes meet and often exceed the standards of traditionally built homes. Modular construction uses more materials than traditionally built homes and those materials are never subjected to bad weather. As a result, modular homes last longer through time and weather.
Modular construction offers you the ability to build a high quality, custom designed home, faster. For more information on modular home construction, contact Avalon Building Systems.