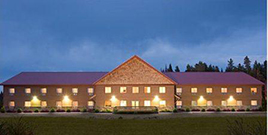 Modular construction is becoming even more appealing to commercial developers because of the many different advantages it offers. This sector of the construction industry is not only limited to large-scale residential homes, it now caters to projects such as educational institutions, box warehouses, office spaces and other commercial buildings.
During the manufacturing process, the standard building specifications including the architectural designs of the modular floor plans can be carefully reviewed. This provides the opportunity for developers to see to it that the chosen plan will best fit their vision. Once the modular floor plan is chosen, features may be modified or added in order to ensure that all requirements of the commercial project are met.
Modular construction of commercial style modular buildings in Hingham, MA ensures that the final product is of superior quality. Commercial buildings constructed using modular building technology is guaranteed high quality because of the controlled manufacturing process. This helps significantly minimize the potential risks associated with poor building performance.
To find out more about the benefits of custom-building commercial spaces using modular construction, contact Avalon Building Systems.