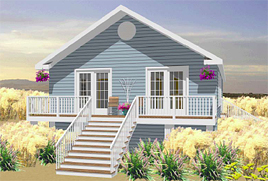 Now is the time to start planning the building of your dream vacation home. You can custom-build your vacation home in time for summer. Modular construction offers a wide array of options for customization in addition to offering a varied range of vacation style modular floor plans. Through this alternative, non-conventional type of construction, you can choose among the available floor plans, modify an existing floor plan, or create your own, all while having a completed house faster than with traditional construction.
If you are interested in modular home construction but do not have a concrete idea of what you want in a vacation home, start by viewing the available modular floor plans for vacation style homes. These floor plans will help you design and build the perfect modular vacation home that can be custom made to your needs and budget while it also meets and exceeds all local and state building requirements.
Modular construction enables you to custom-build a vacation style modular home in Plymouth, MA that will last better through time and weather than traditionally built homes. All prefabricated modules of your vacation home are glued and screwed together using the best materials and technology to ensure that your home is more stable, durable, and beautiful.
To find out more about vacation style modular floorplans, contact Avalon Building Systems