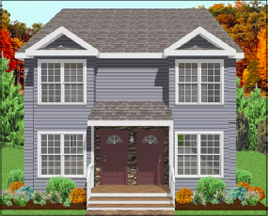 Modular construction does not create a home that is visibly any different from traditional construction. Modular homes are constructed in compliance with local and state building codes such as IBC or IRC. As an alternative to traditional construction, modular construction uses more advanced building technology in which the various modules are built at the same time and then brought to the permanent site for assembly. Each module is regularly inspected by engineers and QA professionals in order to ensure the integrity and compliance of the structure, even when building and inspecting large multi-family style modular homes.
Modular construction is an effective building solution which speeds up construction time when custom-building multi-family style modular buildings in Norwell, MA. Because this construction method needs to comply with standard building codes, you can be confident that the multi-family modular building is safe and durable. Because modular construction for multi-family style building projects are completed even faster and better than through traditional means, it is widely used in the US for great quality control for both residential and commercial structures.
There are hundreds of modular home floor plans from which you can take inspiration from in planning. Whether you want to custom-build condominiums, dormitories, townhouses, apartments, or any other form of residential complexes, you will be able to find a floor plan that caters to your specific requirements and personal preferences.
To find out more about multi-family style modular home floor plans, contact Avalon Building Systems.