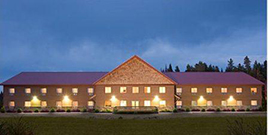 More and more project developers and investors are choosing modular construction for building large and complex projects because of the significant reduction in total construction time and expenses. As a result, this is becoming an increasingly fast-growing sector in the construction industry.
The shortened timeline of modular construction for custom-building permanent commercial structures means that developers can easily reduce market risk by getting ahead of their competition and renting apartments sooner. Through modular construction it is possible to construct aesthetically pleasing and fully functional commercial style modular buildings in Hingham, MA faster than with traditional construction methods. This is because the modules are first pre-fabricated inside a climate-controlled facility. This means that the process is never delayed due to weather or materials shortage. The modules are then brought to the permanent site and assembled. Because the building can be occupied sooner, ROI can be achieved faster.
There are hundreds of modular floor plans for commercial applications. So whether it is an apartment building, office space, or other commercial structure, owners can take inspiration from the available pre-designed floor plans and make modifications if needed in order to meet the specific requirements of each application.
To find out more about the commercial applications for modular construction, contact Avalon Building Systems.