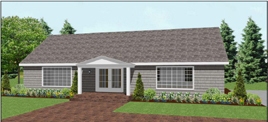 Modular construction has so much to offer, it is not just floor plans for residential homes. Investors and business owners can custom-build a commercial building using this advance building technology.
Restaurant franchisees can benefit from modular construction as well because there are a wide selection of modular floor plans to help them meet quality guidelines required in their line of business. This flourishing sector of the construction industry gives franchisees a competitive advantage because buildings are built faster as compared to traditional building processes. Faster completion means they can start sooner and get ahead of their competitors.
Modular restaurant buildings and other commercial style modular buildings in Cohasset, MA are permanent structures. Their modules or sections are prefabricated inside a climate-controlled facility before they are assembled at the permanent site. Modular commercial buildings meet or exceed the quality, functionality, and aesthetics of traditionally built buildings.
To find out more about modular construction for commercial applications, contact Avalon Building Systems.