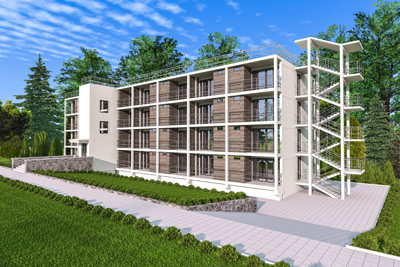 Just like hotels and apartments, school dormitories have similar requirements. The interior needs a well-designed floor plan with easy flow to meet functionality and aesthetic requirements. On top of that, because these buildings are occupied for the entire school year and sometimes year-round, a solid and sturdy foundation and core are required to guarantee safety standards. Tough and quality framework almost always follows with expensive construction costs and a long time to project completion.
However, now there is modular construction which offers affordable and high quality buildings to accommodate student housing. What makes modular buildings in Plymouth, MA a less expensive option over traditional construction in both time and money is the efficient use of technology and the efficient systems building process. Since safety and comfort of the students are the two top priorities, a well-designed modular floor plan complete with safety features is strictly implemented in modular dorms.
It is important for school dormitories to pass or exceed all local and state building codes. Commercial style modular buildings strictly abide by and surpass these building requirements for safety. Contact Avalon Building System to learn more about modular building system.