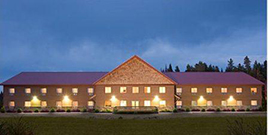 Restaurants are just one of the many types of permanent commercial buildings that can be built through modular construction. With this advanced building technology along with the different options for customization, it is easier for restaurant owners to custom-build a structure based on the prerequisites of the franchise or based on their personal preferences.
Restaurant franchises often demand stringent specifications in order to maintain brand, image, and reputation. Private restaurant owners have their own set of needs and specs. There are numerous modular floor plans for commercial style buildings which can help owners create a flow and a style that suits their needs. Once a floor plan has been chosen, owners can then make changes or modifications to the design if necessary.
The commercial style modular buildings in Hingham, MA for restaurants are attractive and varied. The modules are built within a climate controlled facility and then transported to the chosen permanent site. This is a major advantage of modular construction because this speeds up project completion by eliminating weather, materials, and labor delays.
To find out more about commercial style modular buildings, contact Avalon Building Systems.