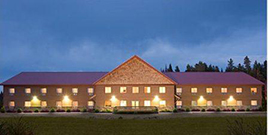 The commercial style modular buildings in Plymouth, MA are not only restricted to restaurant buildings, financial firms, and residential apartment complexes. Nowadays, there are law offices, doctor's clinics, and office buildings that are custom-built through modular construction building technology.
Modular construction continues to flourish and has broadened its scope to include commercial applications rather than being used primarily in residential construction. A variety of modular office building floor plans are available ranging from single story to multi-story, with conference rooms, open areas for cubicles, manufacturing floors, and more.
There are now a numerous options for modular floor plans for custom-built office buildings based on the industry. Regardless of the type of business, modular construction can be used for commercial buildings. Commercial modular construction allows for businesses to own their own space in less time or for investors in commercial spaces to generate ROI faster.
To find out more about commercial applications for modular construction, contact Avalon Building Systems.