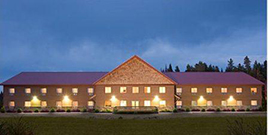 Colleges and Boarding Schools can also benefit from modular construction by taking advantage of the advanced building systems that it has to offer. When classrooms are overcrowded, administrators can rely on the modular construction process to provide immediate solution by custom-building modular classrooms that blend in with existing buildings on campus.
Modular classrooms and educational complexes are part of the commercial style modular buildings in Stoughton, MA that are becoming more popular. Avalon Building Systems has streamlined the modular construction process for educational buildings in order to build aesthetically pleasing and fully functional space faster and more economically. They provide quick solutions to overcrowded classrooms, libraries, and other school facilities that are vital to learning and development.
There are many different commercial modular floor plans which can be used for conducive classrooms and other school facilities. These floor plans can be transformed with less time and money compared to traditionally built structures. This is advantageous for not-for-profit educational institutions that need to keep expenses down while still achieving quality output.
To find out more about commercial style modular buildings, contact Avalon Building Systems.