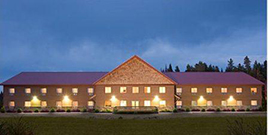 The advances in modular construction have provided project owners and investors with more convenient options which allow them to attain a competitive advantage in terms of productivity and return on investment. Given the many different benefits of custom-designing superior buildings while saving on cost and time, this sector of the construction industry continues to be a more preferred construction delivery method.
Anything is possible with the extensive selection of modular floor plans that are available for permanent commercial modular structures. They are customizable based on the unique needs of each application, transforming modular floor plans into sections of commercial buildings. Every module is inspected by engineers and QA specialists for compliance with local and state building standards and related codes.
There are commercial style modular buildings that are used as office, school, a bank, multi-family homes, warehouses, medical buildings, and more. Each modules that make up the permanent structures are custom-built in order to achieve faster project completion.
To find out more about the commercial applications of modular construction, contact Avalon Building Systems.