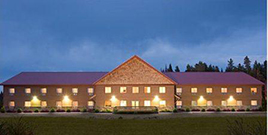 Today modular construction in Hingham, MA is not only used for custom-building new homes it is also being chosen as a preferred option for commercial applications as well.
Project developers and investors are choosing modular construction when they find out that it is a great way to save time and money for a very high quality commercial structure. This is why it is not a surprise that there are now many commercial style modular buildings in Hingham, MA. Because of the large amount of time and money it takes to build commercial space, the profit levels of project developers and investors are growing exponentially by choosing modular construction technology. Building permanent commercial modular buildings can accelerate the time to occupancy by up almost 50% over traditional construction. But even with faster completion of the project, modular commercial buildings from Avalon Building Systems are rated superior in quality. You will achieve a higher return on investment, faster in a superior building.
A large variety of commercial modular floor plans are available for commercial buildings, such as office space, educational institutions, healthcare facilities, and more. With the customization options, you can have a modular floor plan that is tailor-made to the specific requirements of each commercial application.
To find out more about commercial modular construction, contact Avalon Building Systems.