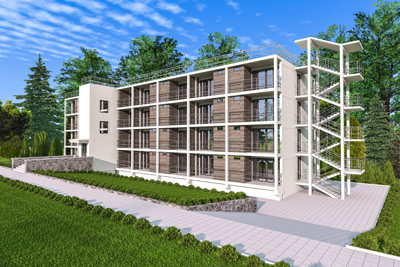 If you want to invest in real estate or if you are thinking of constructing a multi-family home, modular construction can best solve your business interests. This method makes for a much speedier design and construction process for homes that are perfect for condominiums or multi-family home living. Many investors are now turning to modular construction because of the high quality project output and quick turnaround time.
Modular building systems allows for customization of outdoor and indoor design. This is important in designing floor plans. Since the building is designed for residential living, it must have a smart layout that meets the standards of a safe and comfortable home that meets or exceeds local and state multi occupancy building codes. Homes that are being rented to families must consider the safety of children. A childproof layout should be one of the key features of the residential complex. It is essential not just to provide your tenants with a comfortable environment in which to live but the building must be equipped with the latest safety features as well.
Modular buildings in Cohasset, MA can serve as apartment homes, townhouses, or condominiums. The fast construction time-frame for modular buildings benefits investors and tenants because the buildings are occupied faster. As a result, ROI for investors is achieved more quickly.
If you want to push through your real estate business plan, contact Avalon Building Systems.