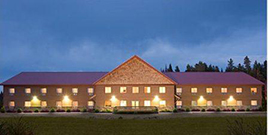 Depending on the specific commercial needs, apartment buildings up to five stories can be custom-built using modular construction. With this factory-built modular technology, investors can expect to gain a competitive advantage and enjoy additional benefits from the construction stage all the way to the complex becoming operational.
Commercial style modular buildings have decreased construction time and reduced disturbance to the surrounding area. Because the apartment building modules are first prefabricated inside a climate-controlled facility, there are no construction, weather or labor delays. This means the project stays on schedule and can be delivered to the permanent site on time. The modules are brought to the permanent site and assembled, largely reducing construction time. The surrounding neighborhood is also not inconvenienced, because the modules are constructed off-site; and are then set up faster with less disturbance.
Another advantage is the fact that the building materials that are used to create your chosen apartment building modular floor plan are never exposed to poor weather or subject to theft because they are stored safely within a high-security facility. This means less material waste which often results in a significant cost savings.
To find out more about other commercial applications of modular construction, contact Avalon Building Systems.