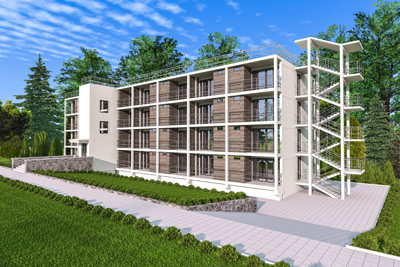 The tourism industry is booming on the South Shore. The Massachusetts coast brings tourists in all seasons. For those in the hospitality business who want to capitalize on this market share, there are faster, easier, and more economical options for owning your own income property. More investors and developers are looking into modular construction to build hotels, motels and bed and breakfasts. This sector of the construction industry is becoming more popular because of its speed, quality, aesthetics, practicality, and cost-efficiency which are exactly what investors, owners, and developers are looking for.
The advanced building technology in modular construction allows for efficient and cost-effective ways to custom-build aesthetically pleasing and highly accomodating hotels, motels, and B&B's as well as other types of commercial style modular buildings in Duxbury, MA and the surrounding area. In the competitive hospitality industry, finding a better, faster, and more economical way to construct commercial space has huge advantages. With modular construction, these buildings are completed in significantly less time and with less money. For this reason, this building option has become an ideal solution for investors, owners, and developers who want to maximize their capital with a guaranteed higher return on investment.
Because modular construction has a faster completion time for building modular floor plans for hotels and motels into permanent structures, owners can start generating revenue faster. The floor plans can be customized so that the interior and exterior designs can be unique to the specific brand.
To find out more about options for custom-building hotels and motels with modular construction, contact Avalon Building Systems.