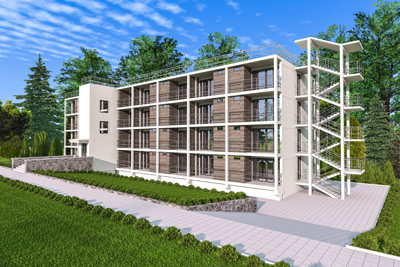 One way to draw in prospective clients is through a head-turning commercial space. For many entrepreneurs, investing in a building is a must. However, this can be expensive and time consuming when choosing traditional construction methods. But, when renting or buying already established space, business owners can be somewhat limited as to the design of the interiors and exterior. Commercial modular construction in Stoughton, MA addresses this concern.
The building says a lot about a business. Not only that, it can serve many purposes. Nowadays, consumers appreciate buildings that are well-thought out, someplace that has resonance. For business owners who want to enjoy customizing their space, modular construction is a great bet. Business owners can choose from a selection of commercial style modular floor plans that offers the features that best satisfy the needs for a customized building that they can call uniquely theirs.
The commercial style modular buildings in Massachusetts use advanced building systems that guarantee high quality with less time and money. The streamlined building processes of commercial modular construction, matched with premium-cut materials, ensures that commercial space that is custom-built through modular construction are guaranteed to improve a business' reputation because it is aesthetically pleasing, remarkably energy-efficient, and fully functional.
To find out more about options for commercial style modular buildings, contact Avalon Building Systems.