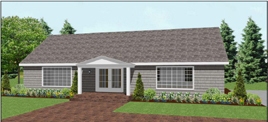 Commercial style modular buildings in Cohasset, MA can be used for many types of business offices. One application is for bank office space. Banks acquire and manage money which is why they need to have excessive standards in security. Additionally, banks need to be able to provide exceptional customer service. Associates are highly professional and are trained to provide the best services to all clients. Security and customer service should start first in the design and structure of the bank.
How a bank is designed determines the quality of service and level of security that it has to offer. With modular construction, banks and other financial firms can achieve these high quality standards. Since modular construction is highly customizable, banks have vast options for the structure and design of the building. Modular construction does not limit the creative options for clients. On the contrary, modular construction opens up more advanced and high-tech approaches to bank building. In order to meet the security needs of a bank, concrete and steel floor systems and foundations are used to support heavy floor loads which can be incorporated into the design. Walls, roofs, windows and door systems can be upgraded as well. Additionally, the the interior and exterior of the building can be easily customized. Additional security features such as bullet resistant glass for teller stations, alarm systems, and CCTVs, among others can also be added.
There are a variety of commercial style modular floor plans to choose from. For banks, The Bank modular floor plan is perfect to suit both security and customer service standards. It is a single story 15' - 8" x 56' - 0" design with a total finished area of 875 square feet.
To find out more about commercial style modular buildings, contact Avalon Building Systems.