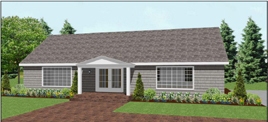 Standalone restroom facilities are ideal projects for commercial style modular buildings in Duxbury, MA. These facilities are often highly needed in public settings such as parks, beaches, rest areas, campgrounds, and outdoor community areas. Not long ago, sanitation facilities could only be built through traditional construction which would disrupt people and public places. But through innovations in modern construction, contractors can construct facilities without causing interruption in day to day activities.
Modular construction can more easily and quickly construct public restrooms. With modular construction, the buildings are manufactured in a factory-like setting. The "modules" are then transported to the permanent site to be assembled. Through modular construction restroom facilities can be added to an outdoor public area quickly and without any disruption to the environment. With that being said, the construction is simple, fast and completed with minimal to no disturbance to day to day activities. These modular restrooms are designed to be easily lifted with a crane and lowered into place. And, since modular restrooms are factory wired and plumbed, the facility is ready for use immediately.
In addition, although traditional and modular construction greatly differ in their methods, virtually any feature that can be added through traditional construction can be added with modular construction as well. Plumbing for restrooms, heating, ventilation, and air conditioning as well as other features can all be integrated into restroom modular floor plans. There are virtually no limitations in the style and design either. Modular restrooms are aesthetically pleasing and highly functional.
To find out more about commercial style modular restrooms, contact Avalon Building Systems.