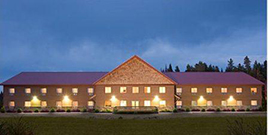 There is definitely a high competition among restaurant owners. Great restaurants should have high quality standard including delicious and well-prepared meals, five-star dining experience, excellent customer service, and restaurant cleanliness, ambiance, and aesthetic. With that in mind, restaurant owners are constantly seeking ways to maintain a good reputation for their business. Fortunately, there are commercial style modular buildings in Hingham, MA that help restaurant owners achieve some of standards of high quality. Modular restaurants have changed the aesthetic and building standards of modern day construction. Many restaurants today turn to commercial style modular construction because of its many benefits and advantages.
As opposed to traditional construction, modular construction is not rigid, but flexible. A restaurant owner who wishes to have a highly personalized floor plan can make use of a wide array of customization options in order to have a commercial building that suits and satisfies the standard and specific requirements. Furthermore, clients are more than welcome to choose their interior and exterior finishes and select from many available amenities that will enhance their restaurants look and create a consistent, uniform vibe to match the company's branding.
In commercial style modular buildings such as five star restaurants, the owners may want to include grand wooden cabinets, luxurious flooring and posh wall interiors. Using the finest materials and products, clients are assured that the assembly of finished products can be easily and quickly done with less waste and no delay. In just 6-8 weeks after the design process, a commercial modular restaurant can be delivered and built on the chosen site. There is no need to wait a year or two for a project to be completed. With modular construction a restaurant can open their doors to excited diners in less than a year.
To find out more about commercial style modular buildings, contact Avalon Building Systems.