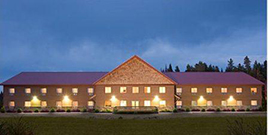 Because of advanced building technology, businesses can opt to use modular floor plans for building their own commercial space. Modular construction offers predesigned floor plans for business use from which owners or investors can take inspiration. In addition to using the existing commercial floor plans, company owners can work with an architect to create unique, custom designed modular floor plans. Then the expert builders at Avalon Building Systems will use the floor plan to construct the commercial building.
There are many commercial style modular buildings in Hingham, MA and the surrounding towns. This is because modular construction has expanded in scope and popularity from residential construction to more and more commercial structures. Commercial modular buildings meet or exceed all local and state building codes.
In addition to the advanced building systems used throughout the process, high-grade and precision-cut materials are also used. Business owners can be confident that the modules are perfectly glued and screwed together ensuring energy efficiency, stability, and security. Modular construction has been proven to be high quality even with multiple floors and multi-family style homes.
To find out more about commercial modular construction, contact Avalon Building Systems.