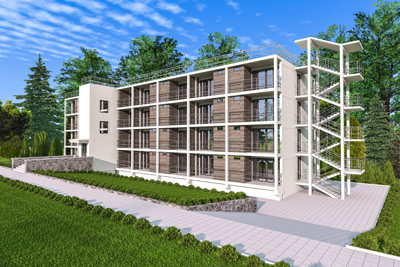 Time requirements can sometimes be very demanding in the fast-paced world of commercial business. From stores and shops that need to operate for the holiday sales, to normal rotation of seasonal industries, to catching up with a competitor nearby, retailers need to fast track construction even when time constraints are inevitable. Construction schedules in some cases are very precise; there is no leeway for delays, errors and reworking. Beating the clock for the much-anticipated opening or launching of a commercial style modular buildings in Hingham, MA is no ordinary task.
Thanks to modular construction, commercial projects can now be completed on time. What makes modular construction meet almost any deadline is the assembly line-like process. Modules are pre-fabricated in highly controlled environments in an off-site factory. The modules are then transported to the actual site for final assembly. The factory conditions ensure quality and on-time delivery.
Furthermore, weather factors, which are a common cause of delay in traditional construction, are almost negligible with the modular approach because pre-fabrication processes is done indoors. The factory setting allows possible mechanization, automation, jigs and tool application for similar and repetitive modules. All these are readily available to support workers and allow them to achieve their daily building tasks.
The efficient processes of commercial style modular construction has attracted commercial operators in their time-restricted ventures. Indeed, modular construction gives businesses bigger savings in terms of time by way of faster and on time output. Saving time eventually translates to greater savings in costs and capital. For more details about commercial style modular buildings, contact Avalon Building Systems.