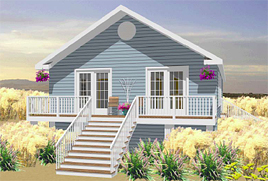 Faster completion of large scale residential projects is one of the great breakthroughs of modular construction. This is one reason why more and more architects, developers, contractors, and investors are now more interested in this new sector of the construction industry, Modular construction not only promises speedy building, it also promises a higher, faster return on investment.
The multi-family style modular buildings in Cohasset, MA continue to hit the housing industry by storm. In fact, due to the greater understanding of this construction method, there has recently been a 360-degree shift in focus and interest in the construction of large scale residential complexes by developers and investors. These multi family buildings offer the benefits and advantages of prefabrication and modular building technology to the commercial construction market providing a new stream of revenue for those who want to invest in real estate for an additional stream of revenue.
Over the years, many different floor plans for multi-family style modular buildings have been custom-designed to serve various purposes. They have specific features that can be further customized based on the unique needs of your application. Advanced building systems are now being incorporated that allow home builders to attain competitive advantage when building apartments, condominiums, dorms, townhouses, and other residential complexes.
To find out more about multi-family modular buildings and other modular floor plans, contact Avalon Building Systems.