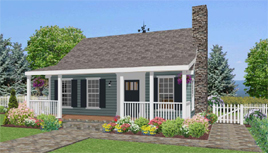 Nowadays we find as many people interested in vacation style modular homes for use as their primary home as we do for their second home. Vacation style homes let you stay and spend your leisure time in the comforts of your home instead of travelling to find the perfect place to relax or retire.
With modular home construction, you get the exactly what you want in a house. No unnecessary spaces, rooms or amenities. You also get the savings of a faster build-time, so you can move in faster. With modular home construction, you have the freedom to pick the best modular home floorplan that has the specifications that are right for your lifestyle.
With vacation style modular homes in Stoughton, MA you can feel like you are on vacation every day. The home is built using modules. High-quality materials are used to custom-build this floor plan to ensure safety and satisfaction of the homeowners. The standard home specifications can be customized and matched to what you want in an ideal vacation home. This modular home style also works for those who are interesting in investment properties.You can now create mountain cabins or beach front homes with modular floor plans.
To get more information about vacation style modular homes, contact Avalon Building Systems.