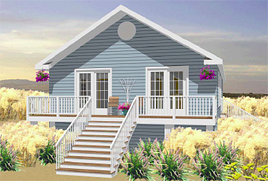 Through modular home construction, Vacation style homes can now be custom-built to be as functional as they are beautiful. Whether they serve as your weekend getaway home or primary residence, these prefabricated homes are perfect because they provide the comfort of being on a vacation.
Vacation style modular home floor plans feature family-friendly living spaces that are oriented towards huge windows and large porches that allow natural lighting inside while showcasing the view outside. With the use of use the latest technology such as a computer aided design software, you can design your chosen modular home style from top to bottom, inside and out. While the architectual designs are not specific, modular home floor plans can fit specific settings such as mountains and seasides.
Vacation modular homes in Stoughton, MA are usually a second home but today, many individuals are interested in these floor plans for a primnary home. Modular homes comprise various styles that can be customized to make you feel like your are on a vacation everyday. You can maximize a smaller lot and make it the permanent site for your prefabricated cozy cabin, mountain home, beach house, family cottage, or retreat.
Start the path to owning your own vacation or permanent home by customizing a modular floor plan that is perfect for you and your family. To find out more about your options in modular home construction, contact the professionals at Avalon Building Systems.