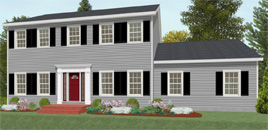 With all of the options for customization in modular construction there is much to decide on when working with the beautiful Ranch style modular homes floor plans. While they seem indistinguishable from those traditionally built homes, these modular homes will still truly stand out from the rest of the houses in your neighborhood. Using computer-aided engineering software, the available floor plans can be further customized so you can have a home that is unique and meets your needs.
Ranch style modular homes in Stoughton, MA are known for their single-level and close-to-the-ground profile that can be in asymmetrical rectangular, L-shaped, or U-shaped layout. These modular homes are custom-built using only high quality materials that last a lifetime. Nowadays, homeowners can choose to have an unfinished walk-up attic space and dormer thereby adding more living space in your home.
They may have minimal interior and exterior decorations but this does not mean that the Ranch style modular homes are not any more aesthetically pleasing. The minimalistic approach used in this style of homes is what sets these them apart from the rest, making these modular homes more noticeable for any passerby or guest who sees them. Aside from the aesthetic value, the ranches also offer functionality that make home living more convenient and comfortable.
To find out more about Ranch style modular homes and other floor plans, contact Avalon Building Systems.