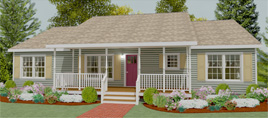 The modular construction industry is known for offering new homes with convenience and comfort. With modular home construction you can select from a variety of floor plans that are flexible enough to be custom-designed to your liking. Among these floor plans, Ranch style modular homes have become one of the hottest home styles on the market.
Ranch style modular homes in Stoughton, MA are quite spacious. Given the space, the ventilation in these homes is unmatched. The open floor plan also makes these homes easy to clean. This makes the ranch style floor plan great for those who have active and busy lifestyles.
Even though ranch style modular floor plans are single story homes does not mean they cannot compete with other homes in terms of aesthetic value. In fact, the options for customization provide you with a home that addresses your specific needs and that will match your personal preferences and lifestyle. You can make your indoor space as pleasing and creative as the outside.
The wide array of flexible features in modular home make a home more personal and beautiful. Consider ranch style floor plans if you are in the market to build a new home. For more information, contact Avalon Building Systems.