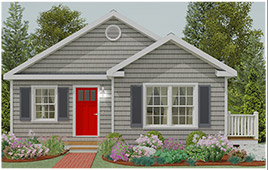 The standard specifications of ranch style modular home plans are perfect for hot, humid summers and mild to cool winters in Cohasset, MA. These single story modular homes are easy to build with your personal preferences in mind. These modular floor plans are very flexible so you can conveniently enhance your living experience and your living space in your new modular home.
The Cohasset ranch style modular home offers a large master bedroom along with two smaller bedrooms that are adjacent to each other. It has a total living area of 1,750 square feet which houses a fully furnished kitchen nook that opens to a large dining area. Aside from the two bathrooms, one near the master bedroom and the other next to the family room, there is also enough space for the laundry and closet. In its 2,220 total square footage, you also have the option of a two-car garage.
While these homes are intended for single story living, down-the-line you can have a second level added if you find you need additional space for a growing family. The unfinished walk-up attic space and dormers on the ranch style modular home in Cohasset, MA can be turned into living space where more bedrooms can be added upstairs.
To inquire about The Cohasset ranch-style modular home plan, contact the Avalon Building Systems.