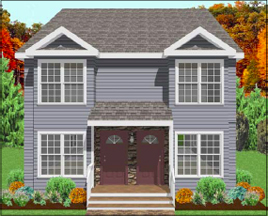 There are numerous advantages in choosing modular construction when building multi-family homes and buildings. If you are a homeowner, a developer, or a general contractor who wants a quality, precision built, and eco-friendly project built by professionals who understand the value of time and money, then contact the expert team of engineers and builders at Avalon Building System, a modular home manufacturer.
Whether you have existing plans for a project or are still in the planning phase, our team can help you choose a modular floor plan that fits your specific requirements and personal preferences. The modules, or sections, of your multi-family home are prefabricated in a factory style setting where weather-related delays and other jobsite disturbances are significantly reduced. And because the modules are constructed in a controlled environment, the time to occupancy is much faster when compared to traditional construction. The less time spent until the project is accomplished, the quicker the return on investment.
With modular construction, it is possible to achieve lower cost of construction and faster completion time for multi-family style modular buildings in Stoughton, MA. Even if your project involves custom-building multiple unit residential buildings with second level, garage, or porch, your project can be accomplished for an economical price with an economical time-line without compromising quality. You are guaranteed a project that is both aesthetically pleasing and that meets or exceeds state and local building codes.
To find out more about multi-family modular homes, contact Avalon Building Systems.