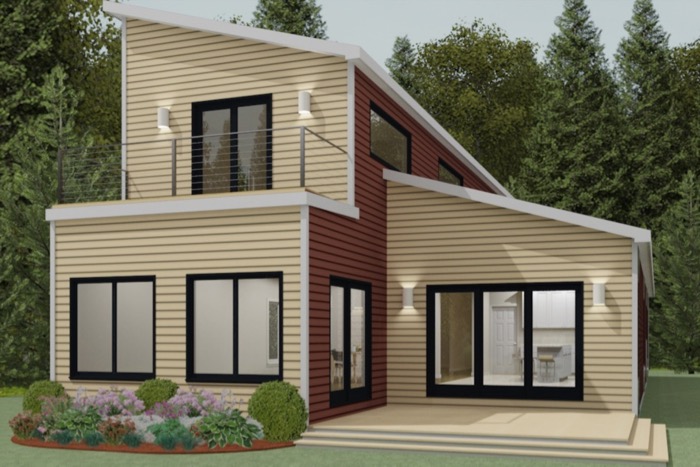 Modular home construction today incorporates best practices to integrate proprietary technologies and a new vision for longevity and modernization. Modular homes are increasingly popular as a way of improving efficiency, longevity, cost effectiveness and flexibility of builds. Modular homes appraise the same (or better) as their on-site built counterparts do. They do not depreciate and are faster to build than stick-built homes. Modular homes are considered a form of green building. Did we mention that they modular home can be built FAST?
Home builds are significantly affected by weather. Weather attacks stick-built construction significantly more than the modular home construction. Almost anything can happen to the construction schedule to include weather delays, theft, and builder injuries. So we'll give stick-built homes an even score for builder injury delay as those risks are about the same. But as to weather and theft, the threat to modular construction is significantly less given the fact that much of the buildout is conducted within a factory (and thus not subject to weather) and less theft because the build's components are not delivered to the site until they are ready to be integrated into the build.
Modular homes are not mobile homes. Modular construction is an engineered building system using highly automated equipment that completes even final finishing touches. The components are built in cubes and are finished inside and out, complete with paint, lighting and plumbing fixtures, cabinets, wood flooring, counter tops and all electrical and plumbing systems. Once created, they are shipped to your address for final assembly on your lot. Once the cubes are assembled, the house cannot be distinguished from a stick-built home.
Although the components are built in a factory, they are customized to your specific taste, floor plan and desire for energy efficiency. In fact, there is no limit to the design. And due to the adhesives used to make the walls more rigid for shipping, an even more air-tight construction than stick built walls is achieved. The cubes are built with transportation in mind, so proper construction, including adhesives on wall panels, makes for a much stronger building in general.
Modular construction gets high points for sustainability. Waste is often reduce due to computerized planning and cutting. Product ordering is very specific, no concerns about over-ordering or coming up short. The local workforce has a steady schedule, as the entire construction period is in a climate controlled factory. Recycling is under much better control than an outside environment, too. Modular constructions are built with superior quality materials keeping in mind environmental sustainability of the construction.
You can expect to pay less than a typical site-built custom home with comparable professional design, finishing materials, fixtures and appliances. But do not forget to include the logistical cost of shipping to your building site – including permits and possible road closings for the move and also the expense of a crane on site to stack the cubes. But there are additional savings: reduced man hours compared to stick built homes, lower construction loan carrying costs and far less building delays. In fact, your home can be scheduled and put into construction at the same time your site and foundation are being prepared.
Since the time required for these projects is much less, modular constructions are more cost-effective. Once a modular home is set in its foundation, it cannot be moved. Slowly moving their way into the forefront of home construction, a modular home could be in your future.
After being created in the factory setting, these modular pieces are then transported to site and assembled using heavy machinery. Modular homes do not produce waste as all the required materials for construction arrive on site already installed in the modular pieces. In addition to their ease of construction and energy advantages, modular homes are almost always manufactured to code, ridding you of the worry that comes with home inspections by your municipality.
The look of modular homes is being modernized with energy efficiency. Making modular homes attractive uses geometric and modern exterior finishing's that boast open spaces and maximize natural light in your home. In order to stand out from the competitive modular market, builders are looking to maximize energy efficiency through numerous methods such as recycling materials, using LED lighting and installing solar panels.
We are well-acquainted that a lot of modernist houses are not quite affordable. But modular homes will meet your requirements. This does not mean that everyone who desires a simple and affordable modern design must empty his savings. This is the reality of the situation of things. For lovers of modern house design that is affordable then a Modular Homes is not a bad idea for a start.
Creating an affordable home for you is what we are bothered about! Why not create your dream home when it is affordable and there are professionals to make it easy and stress-free. That is actually what we do, we turn customers dream into reality.
To learn more about Modular Building System, contact Avalon Building Systems.