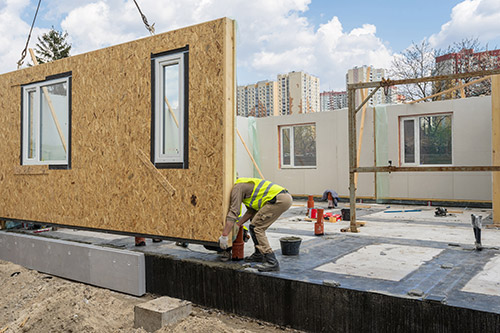 With continually advancing modern modular construction technology, the quality difference between it and traditional stick-built homes have never been more significant. It stands to reason that as a result, the demand for modular home construction is skyrocketing. Anyone considering new home construction in Weston, MA needs to educate themselves in the modular home construction process to understand how this process can deliver significantly higher quality and value.
The process of modular construction delivers a project completion date and precision construction that traditional craftsmen simply cannot duplicate. A significant percentage of the modular home construction process is precisely computer-controlled indoors in a factory-style setting. Computer-assisted construction delivers a level of precision that human craftsmen simply cannot meet. This process vastly reduces waste and errors which are often hidden in the traditional stick-built process. Additionally, computer-assisted construction is significantly faster, delivering a completed project often in half the time. Saving time equals saving money.
With a traditionally stick-built home the frame construction cannot begin until after the lot is graded, the site is set, and the foundation is poured. With modular home construction, the modules are being constructed indoors in conjunction with the start of the site work. Speed of buildout is just one advantage of modular home construction.
If you think you have never seen a custom modular home before, you actually most likely have. To the naked eye there is essentially no discoverable difference in appearance between a modular and traditionally built home. The difference will be seen in energy efficiency, sturdiness, qualty of materials and quality of construction. Be prepared to be amazed at the difference our award-winning custom modular home process can deliver in superior quality and cost-savings value. Let us personally explain and demonstrate this to you. Contact Avalon Building Systemstoday to talk about your new home construction project.