There is more and more interest in creating and buying new environmentally green homes. Green is in, and modular homes are green, but even better, their designs are versatile and appealing. Their popularity is definitely on the rise. With new methods of construction and transportation, designers and builders are cutting waste and energy consumption, and cutting production costs while achieving greater methods of sustainability.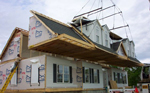 Because modular homes are prefabricated, the modules allow you to design a home that will complement the space you are placing it on. You can change the design and make it fit the space rather than make the space fit the home. This allows for lesser cutting of trees and the use of less machinery on your lot.

The modules are built in a factory which saves time and energy. Much of the waste is recycled; however, modular home factories produce less waste than on-site construction. Modular home production generates around 2% waste whereas stick built homes generate 30-40% waste. Everything is cut with more exactness and applied and assembled more accurately. This extends the life of the home and cuts down on upkeep of the home over time. Also, less time is spent constructing modular homes resulting in lower production costs, including utilities. Ultimately, modular homes allow eco-friendly construction at a fraction of the cost to a larger consumer base.