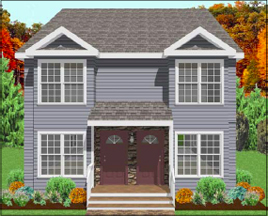 As proof that modular home construction is not only intended for residential use by the homeowner, a variety of designs for the construction of modular buildings can create homes for multiple families. The options available give you many choices and solutions for building rental homes as investment properties in Hingham.
One modular home floor plan that is perfect for rental purposes are the modular multi-family style homes in Hingham, MA. These modular homes address the concern for space when the home is built on a space with limitations in land and with smaller budgets. Additionally, with the convenience of modular construction, landlords and property managers can add onto modular homes easily later on down the line. Modular construction has made it possible to make changes after construction less costly.
The modular home industry uses advanced building systems to custom-build multi-family homes from pre-designed floor plans that take less time and money. The Cheesapeake modular home floor plan is a common choice among multi-family home floor plans because it features three bedrooms per unit. This two-story modular home also has the option to add additional units when necessary. This is good news for those who plan to invest in rental apartments as a means of income. You can test the waters by starting with fewer units, adding more units based on budget, income and demand.
To find out how you can turn multi-family modular homes into a business, contact Avalon Building Systems.