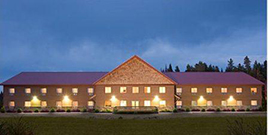 The modular construction industry is making a name for itself in commercial building applications such as business offices, retail stores, healthcare units, daycare centers, rental apartments, and medical offices, to name a few. It is often a more preferred mode of construction because of its inherent environmentally-friendly methods, floor plan flexibility, speed of delivery, and cost-effective construction cycle. The advances in modular construction technology allow businesses owners to build permanent commercial structures that fit their operations perfectly.
Commercial style modular buildings in Stoughton, MA are the work of the continued and combined efforts of home builders, contractors, and architects. Modular construction is utilized to create and construct buildings that are of the highest quality. Whether you need an office space that improves productivity of employees or service centers that help guarantee unmatched customer support, you can have all that and everything else you need with modular construction.
Out of all the commercial modular floor plans available, you can create a commercial building that is a stand-out while saving time and money during construction. The cost savings comes from the assembly-line-style construction process and material handling efficiency. The modules are created in an controlled environment and highly secured factory setting so there are no delays caused by the weather, labor or theft.
To find out more about your options when building commercial spaces, contact Avalon Building Systems.