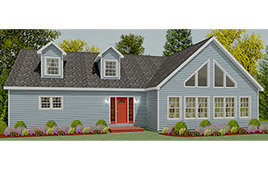 You can find several modular homes in Duxbury, MA. This is because many homeowners witness neighbors who chose modular construction to custom-build their dream home and are experiencing and enjoy the advantages of owning one. Technological advances are incorporated in the construction of every modular home ensuring that the finished product meets the homeowners' personal preferences while meeting or exceeding local and state building codes and standards.
With modular construction through Avalon Building Systems, your dream home will be constructed with high quality materials. The superior quality of modular homes can be attributed to the controlled manufacturing process involved. In order to enhance the durability, beauty and safety of modular homes, there are a series of inspections and quality checks made to these homes during every stage of construction.
Avalon's advanced building system incorporates a computer-aided design program and building information modeling that allows for better visualization and simulation in modular home floor plans. With these advancements in technology, the pre-construction process stimulates the implementation of cost-effective measures to save on time and expenses involved in your modular home construction project. Each floor plan has specific architectural designs that can be customized further so you can call your dream home uniquely yours.
To find out more about the advantages of modular construction over traditional processes, contact Avalon Building Systems.