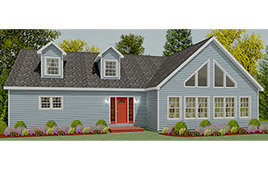 Modular construction can be used for residential homes as well as for commercial and industrial projects. In addition to providing a numerous customization options, modular construction also utilizes advanced building technology for faster build time with greater quality control. Modular construction has evolved into an effective building alternative that guarantees a residential home or non-residential space that is custom-built to meet the highest possible standards.
When building with modular construction in Duxbury, MA, sections of the structure are built at the same time in an indoor, controlled manufacturing setting. Everything is done in a secured facility so the construction can continue through all kinds of weather. Because there are no labor, weather or materials shortage delays the home or commercial space can be completed weeks, rather than months.
Each stage of construction of the modular floor plan is inspected by quality assurance agents, engineers and professionals for integrity and compliance to local and state building codes. Once this is completed, all of the modules are delivered to the permanent site where they will be painstakingly and professionally assembled. After the structure is completed with the final finishing, it then undergoes another set of quality inspections before it is ready for occupancy.
To find out more about the benefits of modular construction, contact Avalon Building Systems.