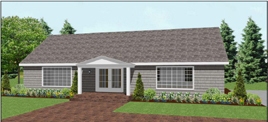 Modular construction is considered an effective alternative solution that allows you to speed up construction time when custom-building structures for your company. You will be able to customize and create commercial spaces that meet and exceed your company requirements as well as specific building standards. Aside from the streamlined and shortened construction process, the diverse options for customization in modular construction makes it a more preferred mode of construction.
Commercial style modular buildings in Stoughton, MA are gradually taking the place of traditionally built commercial spaces because of its convenience with respect to the time and money for construction. Advances in modular construction technology has granted project owners a competitive advantage due to design versatility, inherent green construction methods, speed of delivery, and quality control.
There are also a wide array of modular floor plans from which you can choose or modify when planning to build permanent commercial modular structures. In fact, the number of floor plans are increasing to cater to more specific applications. If you already have a floor plan in mind, you can consult our expert builders to make your design come to life.
To find out more about your options when building a commercial style modular structure, contact Avalon Building Systems.