Many empty nesters are contemplating downsizing their homes. Of all the numerous reasons for downsizing, the most common is that the children have moved out. Perhaps you are looking to stay in or near the same community you have grown to love over the years, or perhaps you want to relocate to Cape Cod. Building a modular home may be a great choice for you. We have many styles and floor plans that will fit your needs. Also, building a modular home is cost effective, efficient and downsizing can save you tax dollars.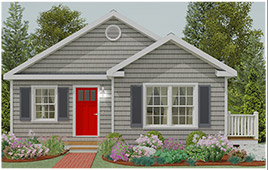 A ranch style home, our favorite being the Deerfield, offers you the style you have grown accustomed to with a floor plan to match. With 1150 square feet, the Deerfield is a single story three bedroom and two bathroom house. The floor plan includes an open living, kitchen and dining area and is perfect for a narrow lot. It also has an option to add a front porch. With this ranch home you will still have the space you are used to and the room for visitors or grandchildren.

If it is the waterfront that draws you, we have vacation home floor plans to suit your needs as well. The Wellfleet is a single story floor plan, 1120 square feet, with two bedrooms and a bathroom. This floor plan also offers an easily accessible laundry area right off the kitchen. The open space of the kitchen, dining and living areas make this floor plan a great vacation home. You can enjoy your new home in class and style.

Then of course, we have the traditional cape style home. Two of our cape style floor plans, the Barnstable (650 sq ft) and the Beverly (1245 sq ft), both offer unfinished upstairs to be molded into a space of your choosing. Both styles offer all the charm of a cape style home.

Feel free to ask us about any of these style homes or any other styles that we offer. And remember, at Avalon Building Systems, we can create the home you are looking for within the price parameters you require.