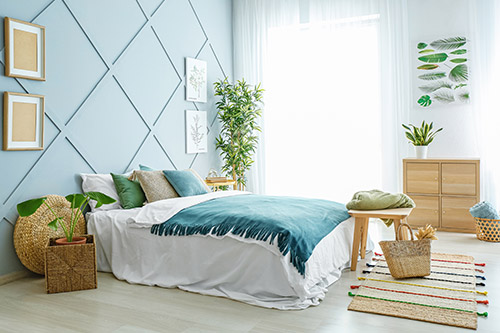 Designing the bedroom within your new custom modular home should be a fun and uplifting experience. We take great pride in helping you see a multitude of options and to ultimately arrive a design that promotes comfort and relaxation. We are thrilled to consult our clients and help them see through the infinite decisions regarding spacing, form, color, texture, and lighting. Let's look deeper into these things.
Comfort
Comfort should be the primary consideration when laying out your bedroom interior. It does not only mean shopping the largest bed but also making sure that it won't take up all the space. Comfort also means you can move around and navigate freely inside the room. Moreover, closets can be opened without tripping over the furniture.
Fabrics and Textures
Choose fabric materials that can add character to your bedroom. When purchasing carpets, choose the one that complements the entire look of the room and makes the ambiance more welcoming. Make sure it feels good in the feet so opt for soft and fluffy carpets. When decorating the walls, consider adding varieties of patterns and textures. You may use papers with unique designs and a burlap texture. Silks, wood panels and polished concretes or plasters can make your room look extraordinary.
Furthermore, it's important to think about color since it's the key to make the bedroom relaxing. It should blend well with the hue of your bedroom walls and the elements that are in it. Also, choose a tone that works well both in the morning and at night.
Lighting
Use bright lights inside closets so it will be easier to find your stuff. But dim lights are recommended when you need to sleep or relax. So, consider having a light regulator to easily regulate your lighting inside the bedroom.
Details
The kind of paintings and furniture you choose reflects your personality. Also, how you place and arrange them in order shows your style.
Avalon Building Systems are there not only to construct your new modular home but to be there for you throughout the journey. That begins with concept design consultation to turning over the keys to your new home. That first night's sleep in your new dream master bedroom is going to be a memorable one.
Contact Avalon Building Systems to get the dream started.